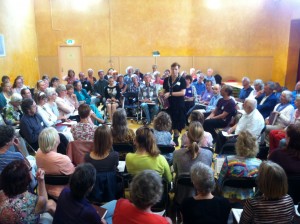 Two new articles of mine are included in the latest issue of the Sacred Harp Publishing Company Newsletter (vol. 4, no. 2, December 31, 2015). In "Regional Roots: Growing Sacred Harp in the Netherlands, Alaska, and British Columbia," I recount recent trips to growing Sacred Harp singings in Utrecht, Sitka, and Vancouver, contending that while during the first wave of Sacred Harp's expansion beyond the South, singers from Alabama and Georgia played an enormous role in connecting new singing groups and sharing Sacred Harp's practices, increasingly
regional cores—sturdy groups of singers with substantial Sacred Harp experience—are helping ensure the success of new classes in their areas … welcom[ing] new classes into the international Sacred Harp network, fostering Sacred Harp's growth in a period when chartered busses no longer regularly transport southern singers to new conventions[.]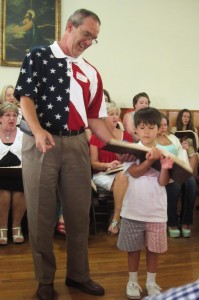 In "Seasonal Songs," written with Mark T. Godfrey, we analyze the variety of ways in which Sacred Harp "singers think about songs in relation to the calendar" when deciding what to lead. As we illustrate,
[some] songs do indeed show a measurable and statistically significant burst in popularity at specific times of the year. Yet the reasons why some songs are led seasonally vary, as do the specific contours in the leading patterns of such songs over time. [This analysis] reveals just one small piece of how … [leaders'] individual discrete decisions build over time, shaping the seasonal ebb and flow of our collective experience.
In addition to these two articles, this new issue of the Newsletter—which I edit with Nathan Rees—includes articles on a 1924 Sacred Harp trophy from Mississippi, a Sacred Harp singing weekend in Sweden, conducting Sacred Harp research online in historical newspapers, a 1965 list of "dos and don'ts" by Nashville minister and Harpeth Valley Sacred Harp News editor Priestley Miller, and much more. You can access the full issue at the Sacred Harp Publishing Company website.
Vol. 4, No. 2 Contents