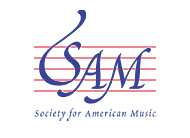 I spent an exhilarating and productive four days this past weekend at the annual meeting of the Society for American Music (SAM) in Lancaster, Pennsylvania. I presented a paper at the conference titled "Shifting Racial Imaginaries in the Folklorization of Black Sacred Harp Singers from Southeastern Alabama." ((This paper represented my first attempt at drawing on the research I conducted as a Sound Archives Fellow at Berea College in January. I'm thankful to the college's Appalachian Sound Archives staff, especially Harry Rice and John Bondurant, for their support. I'm just as thankful to Kent Gilbert, who housed me during my stay in Berea, and to Meredith Doster, Nathan Rees, and Alan Pike, who offered feedback on an earlier draft of the paper.)) In it I analyzed May 1968 interviews between white Buffalo, New York, music scholar William Tallmadge and black Ozark, Alabama, Sacred Harp singers Thomas Y. Lawrence and Dewey President Williams. I argued that the preconceptions of these three people represented (uneven) shifts in the racial imagination since George Pullen Jackson had interacted exclusively with white Sacred Harp singers a generation earlier.
I was thrilled to meet Doris J. Dyen and Deane L. Root at the conference, and especially grateful for their presence at my session. Dyen and Root conducted extensive fieldwork with the same group of black Sacred Harp singers in southeastern Alabama just a few years after Tallmadge visited and shared their memories and insights during the question and answer period after I delivered my paper. ((Doris J. Dyen's dissertation, "The Role of Shape-Note Singing in the Musical Culture of Black Communities in Southeast Alabama" (PhD diss., University of Illinois at Urbana-Champaign, 1977) remains the most thorough scholarly treatment of black Sacred Harp singing in southeastern Alabama. Dyen is particularly attentive to manifestations of racial inequality.)) My session also featured Florida State musicology doctoral candidate Sarah Kahre, who presented a fascinating paper on what revisions of the tune "Boylston" in different editions of The Sacred Harp tell us about revisers' priorities. Nikos Pappas, assistant professor of music at the University of Alabama, served as a gracious and effective session chair.
Other highlights of the SAM conference included singing with southeastern Pennsylvania Sacred Harp singing friends Oliver Kindig-Stokes, Ted Stokes, Ruth Wampler, and Tom Tucker, among others, at the SAM singing; good conversation with too many friends, old and new, to name; a memorable evening program featuring the music of seven Anabaptist groups; and a tasty dinner at the world's largest Smorgasbord! I look forward to continuing to develop the ideas I presented, and to many more SAM conferences to come.