BBC Radio 4 will air a half-hour–long documentary on Sacred Harp singing on Monday, December 3 at 4 pm GMT (11 am EST). You can listen live online at the link above—or access a recording through the BBC's iPlayer for a week after the broadcast. The documentary is the result of a visit by host Cerys Matthews and producer Joby Waldman to the Lacy Memorial Singing in northeastern Alabama this past July. In addition to attending and recording the singing, Cerys and Joby interviewed a number of singers, and attended a short singing school I taught at the home of Henry Johnson.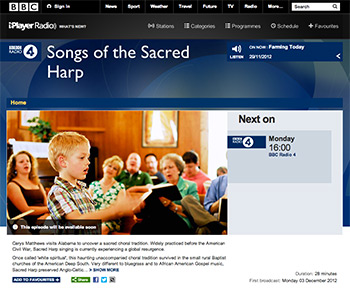 In the wake of her encounter with Sacred Harp this past summer, Cerys has helped promote Sacred Harp singing in the United Kingdom, playing Sacred Harp recordings on her weekly BBC Radio 6 show "Cerys on 6." A recent segment during which about a dozen singers led by Michael Walker sang live on her show helped bring about sixty singers to the singing in Bloomsbury the next day.
Cerys and Joby interviewed me for about an hour and a half after our singing school and I am a featured contributor to the documentary. We spoke about the history of Sacred Harp singing and related genres and I tried to express what draws me to this music and why I think it is experiencing an influx of new singers in Europe and across the United States. I sought to counter the narrative—often expressed in media portrayals of Sacred Harp—that it is an "archaic" "survival" from the distant past now being taken up by exotic newcomers, yet that narrative is present to a degree in the blurb for the piece:
Cerys Matthews visits Alabama to uncover a sacred choral tradition. Widely practiced before the American Civil War, Sacred Harp singing is currently experiencing a global resurgence.

Once called 'white spiritual', this haunting unaccompanied choral tradition survived in the small rural Baptist churches of the American Deep South. Very different to bluegrass and to African American Gospel music, Sacred Harp preserved Anglo-Celtic practices that were subsequently lost in the UK.

Today, this music is spreading from the Deep South around the US and is even developing a following in the UK. Cerys travels to an all-day singing convention in Alabama to find out why the music is not just surviving but flourishing. In an age when church attendance is dropping fast, what is attracting people all over the US and the UK to sing archaic hymns?

Also called 'shape note singing', the music is based around the Sacred Harp hymn book compiled in Georgia in 1844. The pages show different shapes above the words to indicate the notes, enabling songs to be sung on sight. Gatherings are arranged in a hollow square with the self-selected leader entering the middle to call out the number of their chosen song. No applause or audience is allowed. Far removed from 'happy clappy', they are often austere hymns with themes of death and the pain of everyday existence.

Contributors include Hugh McGraw, Jesse Karlsberg, Warren Steele [sic], Reba Del Windom, Henry Johnson, Michael Walker, Emma Rose Brown and Sam Carter.

For information on Sacred Harp singing around the UK:
http://www.ukshapenote.org.uk/
http://londonsacredharp.org/

Produced by Joby Waldman
A Somethin' Else production for BBC Radio 4.
I think this "archaic" label simultaneously makes Sacred Harp singing appealing to newcomers looking for something "authentic" and renders it unappealingly old-fashioned to those in areas where the music has a long history. Despite its ambivalent effect, the narrative is an almost omnipresent part of promoting Sacred Harp singing. While it's perhaps unavoidable that this narrative has found its way into "Songs of the Sacred Harp," it's encouraging that this treatment will be a half-hour in length—enough time to complicate any narrative—and exciting to see Cerys utilize her media access to bring the Sacred Harp singing to a wider audience in the U.K. I look forward to hearing the documentary on the 3rd.