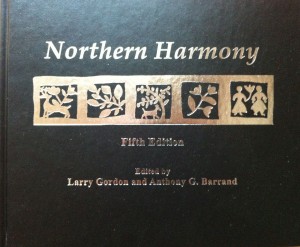 Three of my shape-note tunes—"Clinton," "Hamrick," and "Newton"—are included in the new Northern Harmony (Plainfield, VT: Northern Harmony Publishing Company, 2012). First published in 1980, this fifth edition of the Northern Harmony includes 150 tunes—half written by members of the "first New England School" (1770–1810), and half by contemporary composers working in the dispersed harmony shape-note idiom. Singers across New England use the Northern Harmony as a supplement to The Sacred Harp at weekly and monthly singings. The songbook has also been used by Sacred Harp singers in the United Kingdom since the mid-1990s. A variety of adult and teen performing ensembles brought together by Vermont world music and shape-note music organization Village Harmony also make regular use of the songs in the Northern Harmony tunebook on concert tours and at singing camps.
I attended all-day singings from the Northern Harmony in Vermont and Massachusetts in 2001 and 2002 shortly after I was first exposed to Sacred Harp music. For several years I sang favorite tunes out of the fourth edition of the songbook at "otherbook" shape-note singings at Aldo Ceresa's apartment in New York City and at various homes in Cambridge, New York. It's an honor to be included in this new edition, and to have my songs appear alongside those of teachers of mine such as Neely Bruce, and co-conspirators such as Aldo Ceresa and Lauren Bock.
Copies of the Northern Harmony are available online from Village Harmony.