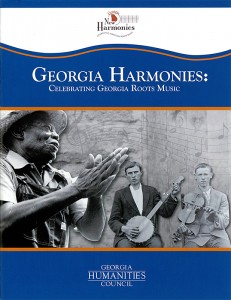 In June 2012 I wrote for the Southern Spaces Blog about the opening of "Georgia Harmonies," a two year traveling exhibition organized by the Smithsonian Institution's Museum on Main Street program in collaboration with the Georgia Humanities Council. In the blog post, I describe how "the exhibit focuse[d] on the connections between musical cultures and place." In addition to a small museum exhibition, "Georgia Harmonies" included a variety of "[e]vents and performances at each of the small towns at which the exhibit stop[ped] featur[ing] musics with historical ties to the town and region, and present-day roots in the area," including several Sacred Harp singings. ((Public Sacred Harp singings were held in conjunction with the Calhoun, Perry, Waycross, and LaGrange tour stops. The Bremen stop included a concert featuring West Georgia shape-note singing styles, among them Sacred Harp singing. The LaGrange stop's singing was preceded by a singing school I co-taught with Lauren Bock.))
On Saturday I organized a Sacred Harp singing for the concluding event of the touring exhibition, a day-long "Georgia Roots Music Festival" at the Woodruff Arts Center in downtown Atlanta. After an introduction by Jared Wright of the Center for Public History at the University of West Georgia, I taught a brief singing school, which led into an hour-long singing. Thirty-five Sacred Harp singers from across Georgia (with a little help from Tennessee) were joined by over one hundred festival attendees for what turned out to be quite a strong singing.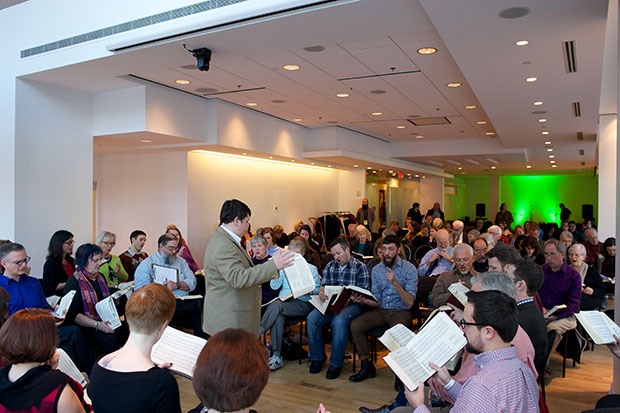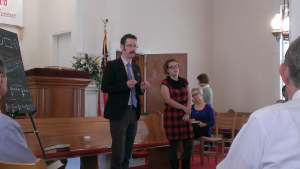 In addition to introducing Sacred Harp singing to Georgians across the state, "Georgia Harmonies" events proved engaging to the Sacred Harp singers who participated. As I wrote for the Southern Spaces Blog, the events led white Sacred Harp singers "to meet, share histories, and compare and contrast our musical practices" with participants in the a black shape-note gospel singing style called "note singing." Exhibition events also brought singers to locations with historical or civic importance, ranging from the Woodruff Arts Center (Atlanta's premier arts institution) to the Long Cane Baptist Church near LaGrange (which J. L. White identified in 1920 as the site of the first Sacred Harp convention in 1845), where Lauren Bock and I taught a singing school in conjunction with another of the exhibition's stops.