I contributed an essay on the many contributions of singer, composer, and scholar Raymond Cooper Hamrick to Sacred Harp singing to the latest issue of the Sacred Harp Publishing Company Newsletter. In my essay, "Raymond C. Hamrick's Contributions to Sacred Harp Singing and Scholarship," I note that, as a composer,
Hamrick imparted to his music a distinctive voice that recalls the earliest American composers while embracing a fluid melodic style and expansive chordal palette all its own. He wrote hundreds of shape-note songs across a sixty-year period, contributing some of the most popular and well-loved songs to The Sacred Harp, and consenting to have some 179 of his songs published in two editions of The Georgian Harmony. Hamrick's singing voice was renowned, an accurate bass singer with a warm and round tone. Hamrick harbored an unquenchable curiosity—he collected rare tunebooks, studied the history of the tradition's songs and composers, and asked and answered questions about the music's practices in the groundbreaking articles he wrote for Sacred Harp newsletters and scholarly journals. Hamrick was a gracious and generous mentor and a friend to many. He shared his knowledge of Sacred Harp's history, his insight into composition, and his thoughtful opinions with singers young and old over decades.
My essay on Hamrick, who was a mentor to me, serving "as a gracious and humble model for combining enthusiasm for Sacred Harp singing and composing with research into its history and practices," as I noted in my dissertation's acknowledgments, appeared in the Newsletter's first special issue.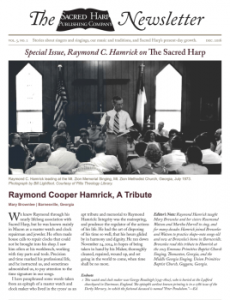 "Raymond Cooper Hamrick on The Sacred Harp," which I edited, "includes insightful essays by Hamrick himself, a video interview, and commentary on his many contributions to the Sacred Harp world." The collection includes seven essays by Hamrick himself. Two of these, a masterful study of tempo and an insider's account of the process of editing The Sacred Harp: 1991 Edition, were never before published. A short video of Alan Lomax and Hamrick in conversation recorded in 1982 had also never been published before appearing in the Newsletter.
Hamrick's unique dedication to studying and writing about Sacred Harp history and practices has largely escaped singers' attention and was invisible to scholars unwittingly building on the foundations established by his research. I'm excited that this special issue brings Hamrick's writings together in a single place, and grateful to have had the opportunity to draw attention to his fascinating findings and to his spirit as a person. I am also grateful to the large team of volunteers, Hamrick family members, and librarians and editors, named in my introduction, who made this issue possible.