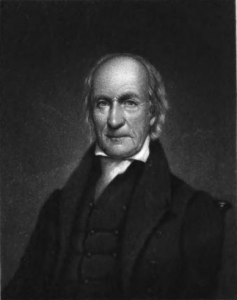 The design of the Sacred Harp: 1991 Edition was widely hailed as a great improvement over previous editions, yet many singers bemoaned the loss of James's historical notes. By far the crowd favorite among these notes is James's comment on John Leland, author of the hymn-text "O when shall I see Jesus, and reign with Him above," which accompanies Elisha James King's "Bound for Canaan" (p. 82). James wrote:
Rev. John Leland was born in 1754 and died in 1844. He was a Baptist preacher. In 1801 he took a preaching tour from his home in Massachusetts to Washington with his Cheshire cheese, which made his name national on account of that trip. … The farmers of Cheshire, for whom he was pastor, conceived the idea of sending the biggest cheese in America to President Jefferson. Mr. Leland offered to go to Washington with an ox team with it and preach along the way, which he did. The cheese weighed 1,450 pounds. He died with great hope of rest in the glory world.
This note led some singers to adopt the name "cheese notes" for James's annotations. Singers in the Boston area even established an annual "cheese notes singing," featuring dramatic readings of this and other choice historical notes from Original Sacred Harp.
Two other notes in which James touches on Leland's character are less widely known. James's comment on "Ecstasy" (p. 106) evinces an awareness of Leland's friendship with Jefferson, which began during the minister's time in Virginia from 1776–1791: (( Elihu Barrett, "Correspondence of Sylvanus Urban: The Great Cheshire Political Cheese," in Gentleman's Magazine, vol. 3 (London: Bradbury, Evans, and Co., 1869), 636. ))
Rev. John Leland … was a Baptist minister, and was a great friend of President Thomas Jefferson. … He was popular among his people, but had many peculiarities. Further notice of him appears under the tune "Bound for Canaan."
Baptist colleagues of Leland commented widely on the preacher's peculiarities. (( "Eccentric John Leland; Baptist Pastors Tell Stories of a Once Noted Preacher," New York Times, October 26, 1886, 8, http://query.nytimes.com/gst/abstract.html?res=9F0CE4DB163AE033A25755C2A9669D94679FD7CF. )) James's juxtaposition of Leland's eccentric nature with the story of the mammoth cheese in his note on "Religion Is a Fortune" (p. 319) suggests he was aware of and attempting to reproduce the story's humor through including it in his annotations:
John Leland was … a Baptist minister, and composed his own hymns. He was also the author of several tunes. Some persons claim he was very eccentric. He traveled all the way to Washington from Cheshire, Mass., to carry President Jefferson a cheese weighing 1,450 pounds: He went through the country on an ox team, and preached all along wherever he could get an audience. He was a good man; and it is said on his deathbed he quoted the words of this hymn: "O When shall I see Jesus?"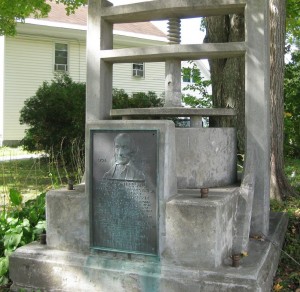 Undeniably comical, the propensity of the notes to encourage jokes at the tunebook's expense, along with the uneven display of pages after seventy-five years of additions and substitutions, was embarrassing to the tunebook's revisers, in whose cultural context Sacred Harp singing was often regarded as "old fogy." In its time and place, however—Cheshire, Connecticut, in November 1801—Leland's journey to Washington was serious business. The journey was a political statement in favor of the separation of church and state and against slavery, as well as a celebration of the newly elected Jefferson. More on that in a future post!