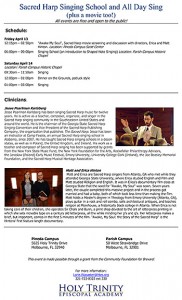 On April 13–14 I will join Matt and Erica Hinton, co-directors of the movie Awake My Soul: The Story of the Sacred Harp, at Holy Trinity Episcopal Academy in Melbourne Florida for a weekend of Sacred Harp singing including a singing school, screening of the Hintons' film, and all-day singing.
The weekend will begin with the film screening, followed by a question and answer session with the filmmakers, on Friday morning. In the evening, I will lead a singing school, teaching the rudiments of Sacred Harp singing to students at the Academy and interested members of the public. The next day we will hold an all-day Sacred Harp singing from 9:30–3:00.
The weekend has been made possible by a grant from the Community Foundation for Brevard.