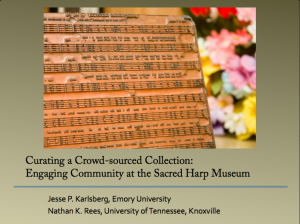 Last Friday Nathan Rees and I presented on the Sacred Harp Museum's new digitization and presentation efforts at the Association for Recorded Sound Collections conference in Chapel Hill, North Carolina. The Sacred Harp Publishing Company board's museum committee, established in 2011, is drawing on the museum's historically strong connections to the international population of Sacred Harp singers. These singers both contributed the bulk of the museum's collection and are the museum's primary audience. The museum committee seeks to simultaneously encourage new donations, facilitate the digitization and preservation of the museum's collection, and undertake new efforts to render the collection accessible. In our presentation, "Curating a Crowd-sourced Collection: Engaging Community at the Sacred Harp Museum," Nathan and I focused on three projects to increase access to the museum's collection:
Online exhibitions: Nathan Rees is curating a new exhibition on the first National Sacred Harp Singing Convention, which will be launched on the Sacred Harp Museum's website to coincide with the thirty-fifth National Convention this June. The exhibit draws on the Museum's collection and new interviews with Sacred Harp singers, to document the motivations behind the founding of the convention, and its structure—modeled on the earliest nineteenth-century conventions, yet reflective of the transformed 1980 Sacred Harp landscape.
The Sacred Harp Publishing Company Newsletter: The Newsletter, which I edit, assisted by Nathan, publishes both newly written accounts of Sacred Harp singings and singers, new research into Sacred Harp's history by contemporary singers and scholars, and newly digitized historical documents drawn from the museum's collection. Some of our most compelling articles have paired historical documents with writing from contemporary singers who experienced the events discussed, or who are undertaking projects now that relate to the older articles.
Oral History interviews: I've been conducting interviews with Sacred Harp singers across Alabama, Georgia, and Texas this spring as a Berea College Sound Archives Fellow, assisted by Nathan Rees, Lauren Bock, and Richard Ivey. These discussions have focused on interviewees earliest memories of singings, senses of how singings have changed over the course of their lives, and thoughts about what their participation in Sacred Harp singing has meant to them. These interviews have inspired us to launch a Sacred Harp oral history project, aimed at collecting copies of recordings of interviews with Sacred Harp singers conducted in the past, and encouraging singers to record new interviews with singers in their areas. We hope to officially launch this new project this summer.
The Association for Recorded Sound Collections conference was a great place to present on this work, and to learn about best practices for digitization, preservation, and access on a shoestring budget. I attended a pre-conference workshop called "All Things Digital: Managing Digital Audio Collections"—an opportunity to learn more about how to approach better preserving the Sacred Harp Museum's collection. Nathan and I also benefited immensely from conversations with conference attendees from government agencies such as the Library of Congress and Smithsonian Institution, numerous university libraries and archives, and record companies. Michael Graves of Osiris Studio, an audio engineer who is presently digitizing twenty-two reel-to-reel tapes in the Sacred Harp Museum's collection, was also present. We are in the earliest stages of this work toward better preserving the museum's collection and making it accessible. It was invigorating discuss this work with such a supportive and informed audience.