The Atlanta Sacred Harp singing community warmly invites you to join us this weekend, September 7–8, 2013, at Church of Our Saviour in the Virginia Highlands neighborhood of Atlanta, Georgia for the 110th annual convention of the United Sacred Harp Musical Association (USHMA).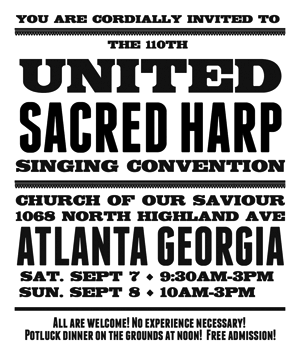 Sacred Harp singing is a "shape note" a cappella hymn-singing tradition based on a book called The Sacred Harp (published in 1844) using a system designed around 1800 to make reading music as accessible as possible to the general public. The USHMA was founded in Atlanta in 1904 by Joseph Stephen James, a state senator and magistrate, and James Landrum White, a prominent singing school teacher and son of the compiler of The Sacred Harp. The USHMA attracted thousands of attendees in the early twentieth century when the convention was held at the old Baptist Tabernacle (now re-purposed as a popular music venue in downtown Atlanta) and later the Atlanta Municipal Auditorium and was attended by officials such as former Atlanta Mayor I. N. Ragsdale. In the aftermath of World War II, Sacred Harp singing became less popular in the urban South and the United convention moved from the city to rural venues in Georgia and Alabama, where it has persisted out of the spotlight for over a half century. Now, in the twenty-first century, a resurgence of interest in Sacred Harp singing in Atlanta and far beyond has brought the convention back to its home for the first time since 1956. This weekend metro-Atlanta area singers will be joined by visitors from across the United States, and several European countries for what we hope will be one of the biggest and best opportunities to experience Sacred Harp singing in Atlanta in recent years.
Facebook Event Page: https://www.facebook.com/events/165784730274080/
Schedule: The convention will meet at 9:30 am on Saturday September 7 and 10:00 am on Sunday September 8. We will sing until about 2:30 and break for dinner on the grounds at noon on both days. Jesse P. Karlsberg and Lauren Bock will host a dessert social at their home at 318 Arizona Avenue NE, Atlanta, Georgia, from 7:00–10:00 pm on Saturday.
Location and Directions: Church of Our Saviour, 1068 North Highland Avenue Atlanta, GA 30306.
Officers: David Ivey, Chair; Matt Hinton, Vice-Chair; Nora Parker, Secretary; Roberta Strauss, Chaplain.
Please consider joining us this weekend for the United Sacred Harp Musical Association. Contact us with any questions. We look forward to singing with you.