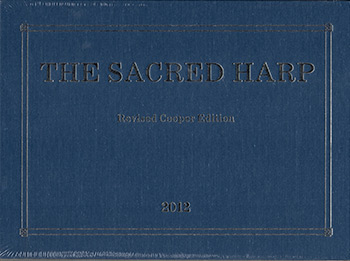 My song "A Glimpse of Thee" is included in The Sacred Harp: Revised Cooper Edition (Samson, AL: Sacred Harp Book Company, 2012). The song appears on the last page of the book before the index and is re-titled "National Blessings" with an alternate text selected by the book's revisors.
Colloquially known as the "Cooper book," this 2012 Sacred Harp edition is the latest in a revision chain stretching back to a 1902 edition of the songbook edited by Wilson Marion Cooper. The first of three competing attempts to refashion the nineteenth century shape-note tunebook for a contemporary audience in the early twentieth century, the "Cooper book" found a following in the area of southeastern Alabama, southwestern Georgia, and north Florida where it was published, as well as in east Texas—it remains the Sacred Harp revision of choice in these areas. ((The songbook was also used alongside other editions of The Sacred Harp in Mississippi, northeast Alabama, and elsewhere.))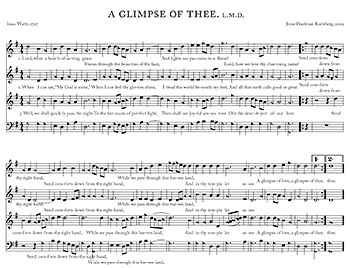 More recently, the "Cooper book" has found new audiences across the United States and beyond, often along pathways forged by reciprocal travel between singers from these places in Georgia, Alabama, and Texas, and areas where Sacred Harp singing (primarily from the competing revision chain represented by The Sacred Harp: 1991 Edition) has spread since the 1970s. This new edition alludes to the recent spread of singing from the "Cooper book" through the inclusion of compositions by singers from these new areas and through the titles of some of these singers' songs, which refer to places (such as "North Jersey") and people (such as "Gosia [Perycz]") who are part of this more recent wave of interest in the songbook. ((The 2012 "Cooper book" includes fourteen new tunes, twelve of which are by living composers. These composers hail from Alabama, Florida, Georgia, Minnesota, New York, Oregon, Texas, and Washington.))
I wrote "A Glimpse of Thee" as a setting for Watts's 1707 hymn "Lord, what a heaven of saving grace …" in August, 2009 while at home in Troy, New York. The "Cooper book" version, "National Blessings," features the first, second, and fifth stanzas of a hymn written by Alfred A. Woodhull in 1828 which appears in Benjamin Lloyd's Primitive Hymns ((Wetumpka, AL: published for the proprietor, 1841. Woodhull's hymn is number 584, the first in the section titled "National Hymns.")) with the title "God acknowledged in national blessings."
Copies of The Sacred Harp: Revised Cooper Edition are available from Bill Aplin, Secretary/Treasurer of the Sacred Harp Book Company. Checks, made payable to the book company, may be sent to Aplin at 200 S. Johnson St., Samson, AL 36477. The price for a single book is $25 including shipping. More information is available in chapter one of Steven L. Sabol's resource guide.