Update (December 7, 2014): Thanks to Mary Leglar for granting me permission to post a copy of this article here in memory of Raymond C. Hamrick, who died last month at age ninety-nine.
Update (January 26, 2015): The Guardian and Georgia Music have recently posted lovely remembrances of Raymond C. Hamrick. Read,
Update (January 5, 2017): A substantially revised and expanded version of my essay on Hamrick appears in the new special issue of the Sacred Harp Publishing Company Newsletter on Hamrick as "Raymond C. Hamrick's Contributions to Sacred Harp Singing and Scholarship."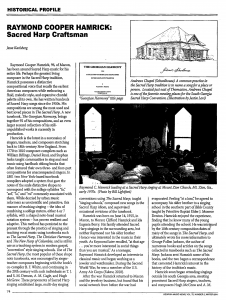 An article of mine, "Raymond Cooper Hamrick: Sacred Harp Craftsman," which contains a short biography of Hamrick and an account of his prolific output as a Sacred Harp composer, has been published as the "Historical Profile" in Georgia Music News, Volume 72, Number 2 (Winter 2011).
In addition to his six songs in the Sacred Harp, 1991 Edition, one hundred of Hamrick's shape-note compositions are collected in the Georgian Harmony (2010). Sacred Harp singers are currently meeting to sing through an even larger selection of Hamrick's music, in preparation for the publication of a second volume, expected in 2012.
Hamrick has been a gracious friend and mentor since I first met him six years ago. I am glad to have had the opportunity to write about him for this publication. In addition to Hamrick, I would like to thank John Plunkett, who improved my article by offering revisions, contributing research, soliciting materials and obtaining permissions for their use, and writing a first draft of the paragraphs in the article on The Georgian Harmony. He should properly be credited as a co-author. Thank you as well to Stephanie Tingler for soliciting the piece, and for commenting on a draft. My thanks to Mary Leglar and the staff of Georgia Music News for publishing the piece, and for their work in copyediting the manuscript and laying it out beautifully. Thanks to Pat Graham, Justin Levi, Sara Lynch-Thomason, and Jonathon Kelso for allowing me to include photographs and illustrations of theirs with the piece. And finally, thanks to Hugh McGraw and Charlene Wallace for identifying the date and location of a photograph of Raymond Hamrick from the 1970s.